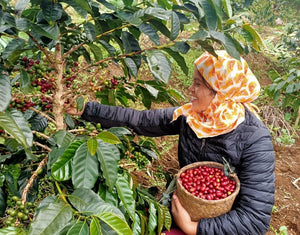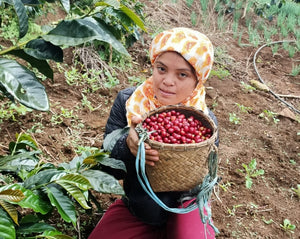 Jastine Mae Dubria PCQC 2021 Lot
No Stranger to Excellent Quality Coffee

The municipality of Bansalan, located at the foothills of Mt. Apo in Davao del Sur, is no stranger to excellent quality coffee and brewing experts. One can attribute this to the area's ideal terroir, which makes most of its land, like Barangay Managa, perfect for growing exquisite coffee.

This paved the way for Jastine Mae Dubria, a coffee rockstar hailing from Bansalan, to successfully secure 3rd place (Arabica Category) during the 2021 Philippine Coffee Quality Competition. She skillfully processed locally grown coffee beans which garnered an 84.71 cup score.

Jastine's passion and talent will ultimately benefit the Philippine's coffee industry. We're excited to share her journey and expertise with you through this amazing collaboration.
Details:

Region: Managa, Bansalan, Davao del Sur, Philippines
Altitude: 1490 MASL
Variety: Arabica Catimor
Process: Extended Fermentation Naturals
Cup Score: 84.71
Suggested For: Filter Brew
We Taste: Tropical Fruits, Berries, Winey, Brown Sugar Sweetness