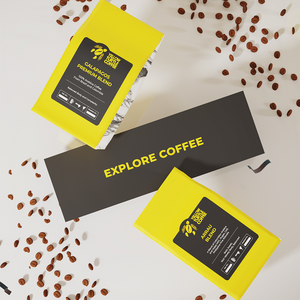 Flagship Blend Collection
YTC Flagship Blend Collection

We are bringing our two most versatile blends in one box! Perfect for your espresso and equally good for pour-overs, french press, Aeropress, drip, and cold brew!

Galapagos Premium Blend

Inspired by the Galapagos Tortoise of South America, one of the longest-lived tortoises with a hundred-year lifespan, this tried and tested 100% signature arabica blend from Colombia and Brazil is our go-to staple coffee that brings a balance of body and complexity.

Arrau Blend

Inspired by the dark colors and velvety textures of the Arrau, a South American River Turtle, we're delighted to bring you our signature blend of Colombian Arabica and Philippine Premium Robusta.

This blend will surely indulge you with a symphony of a rich, velvety body with bold and sweet notes. 100% to give you that extra kick of caffeine you need for the day ahead too!


The collection includes the following.
250g Galapagos Premium Blend

We Taste: Balanced Body and Complexity
Suggested For: Espresso, Filter Brew, French Press, Cold Brew



250g Arrau Blend

We Taste: Bold, Sweet, Rich Velvety Body, Balanced

Suggested For: Espresso, Filter Brew, French Press, Cold Brew

Note for pre-ground Espresso:

Since different espresso machines require different grind calibrations, we will do our best to provide you with the grind size to fit your espresso machine. This means that the grind that we will provide may be too fine or too coarse for the machine you are using.